Business Introduction
The power of PREMATEC will shape your ideals.
We have evolved as an equipment manufacturer focusing on industrial production machines and have a global market share in liquid crystal display manufacturing.
We always strive for the best performance in each and every job by utilizing our flexible response and planning ability, which is possible because we are "PREMATEC", a company that carries out the entire process.
We aim to develop our business with an eye on the future, so that we can lead to a lot of joy and trust.
High quality service enabled by one-stop solution.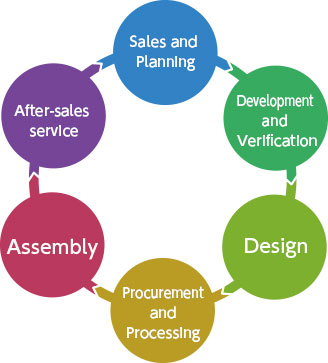 We can support from any process or in some processes.
From planning and development to design, manufacturing, procurement of parts, self-made production, equipment assembly, after-sales service, we offer all services on a one-stop basis. The achievements and know-how cultivated from our foundation, and the "Idea Power" that has been inherited with it are the source of the PREMATEC technical capabilities.
POINT
1

Total cost reduction: We help customers' efficiency with our consistent system from process development to machine production.

2

We respond to prompt and secure after-sales service, maintenance after equipment installation and machine modification by one stop basis.

3

Reduce customers' burden: By unifying the order vendor into PREMATEC, we will reduce customer's labor and time.
We will make a proposal that can meet your needs by asking each customer's needs and requests.
In China and Taiwan, there are local companies or local agent bases, so we can also respond quickly in overseas.

Development and Verification

We develop and verify the process with the actual machines in the dedicated LAB room in order to embody the customer's idea.
Our engineers understand material properties well, and they have fine measurement and evaluation skills.

It is a creative work to make equipment based on market requirements and customer requirement specifications.
We mainly do mechanical designing, electric designing and software designing.

Mechanical design

Concept design - Designing to propose conceptual layout and equipment specifications
Detailed design - Designing from equipment mechanism to chassis with using 2D CAD and 3D CAD
Parts design - Parts drawing design, making of parts list

Electric design

Hardware designing of power supply and control system with using E-CAD.

Software design

Software designing in the equipment with using PLC etc.

Procurement and Processing

Main parts are processed in-house.
We will procure parts from best suppliers.

Based on design specifications, skilled engineers assemble the high precision and high quality equipment.
We assemble machines in our three factories in Japan, install to customer's factory and perform after-sales follow-up in a consistent way.
We have delivered our equipment in Japan and also overseas, mainly in asian countries.

We support a wide range of after-sales service.
Construction of production line
Our company will be your window and build a production line.
Reduce customer burden
Realize reduction of the total cost
Optimum equipment selection
Shorten of conceptional period and startup period
1. Coordinating processes
Various test facilities and measuring instruments are equipped in our factory, therefore process verification is possible in advance.
Proposing technology and equipment to realize optimal process based on verification result.
2.Construction of a production line
It is possible to provide not only process equipment but also a line that combines front and rear equipment and transfer equipment.
Considering tact time and productivity, optimum layout can be proposed with no waste.
3.Line construction with alliances
In cooperation with alliance companies, we can provide a production line and process of the whole factory.
As we cooperate alliances companies, we can greatly reduce your burden.
Own development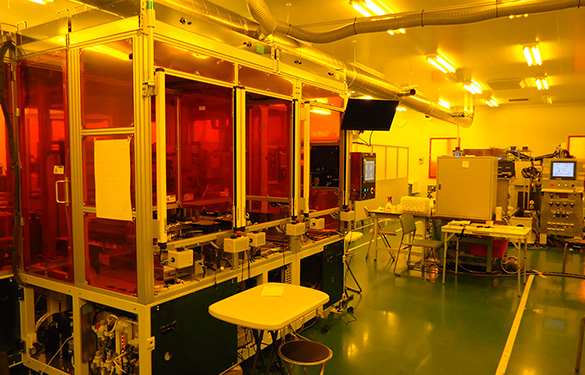 Lab room
Various laboratory equipment and measuring instruments are equipped in our lab room, so we can perform facility performance verification and optimum process verification with our customers.